Surroundings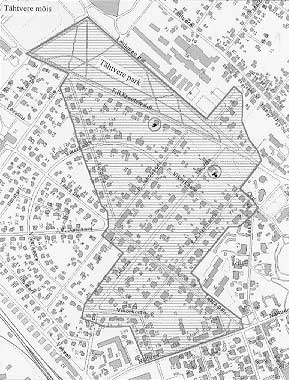 The residential district of Tähtvere where the Villa Tammekann is situated was made part of the City of Tartu at the beginning of the 1920's. A land development plan was made in 1929.
A design competition for the planning of the Tähtvere district was organized and, on its basis, the area was developed according to plans drawn up by the city architect Arnold Matteus. The Tähtvere development plan was characterized by its combination of traditional city planning with a garden city concept.
There were over two hundred large lots. The dominant building type was a two-storey residential house which had an apartment on each floor and a staircase in one corner. Many buildings consisting of four to six apartments each were also designed for Tähtvere with staircases in their centres. In addition the plan included villas and two-storey homes.
The Tähtvere district was a prized area to begin with, known also as the "professor district" – the university being quite close by. Approximately half of the Tähtvere area had been built up before the Second World War and the buildings predating the war are considered exemplary of the development of Estonian garden city type planning.
The City of Tartu declared the Tähtvere area a protected suburb for its architecture in 1996.